Prof. Werner Antweiler, Ph.D.
Werner's Blog — Opinion, Analysis, Commentary
car2go is popular at UBC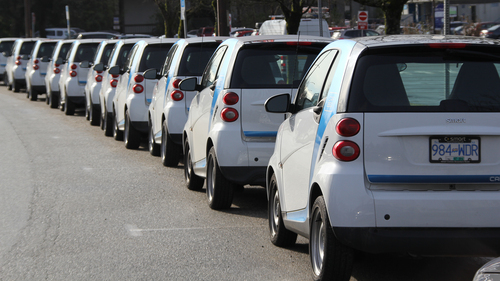 Car sharing has become a visible presence in Vancouver. The white smart cars with blue stripes from car2go are particularly visible and the most numerous among the different service providers. New entrants such as BCAA's evo service differentiate themselves: their Toyota Prius hybrids are black and the blue bike racks make them easy to recognize. Both services offer the same price: 0.41 cents a minute ($14.99 maximum per hour). The services differ in their "home area" where vehicles can be parked. Whereas car2go has expanded into Richmond, North Vancouver and to UBC, evo's coverage remains more limited for now. Walking around UBC during the day, it is quite apparent that car2go is popular among students—and faculty as well. I have been using car2go cars for more than a year now. Even though I do not use car2go to commute to work, I find it invaluable when my own car is on "family duty" and I need another car for a trip where taking the bus is inconvenient or too slow, or where taking a taxi would be too expensive. If and when evo epands to UBC, I will likely sign up for their service as well.
'UBC has become a major car2go commuter destination.'
As a car2go user, availability of vehicles in one's vicinity is a key determinant of using the service. With the car2go app it is easy to find the closest vehicle—if one is available at all. UBC has become a key destination for car2go users who commute to UBC in the morning and return home in the afternoon. The chart below shows the week-daily pattern of vehicles available for use during the most recent winter term (January 5-April 5, 2015) at UBC. Over this 13-week period, by around noon time one can find around 50 car2go vehicles parked on campus on a week day, about 20 on a Saturday, and about 10 on a Sunday. The chart makes it apparent that UBC has become a major car2go commuter destination.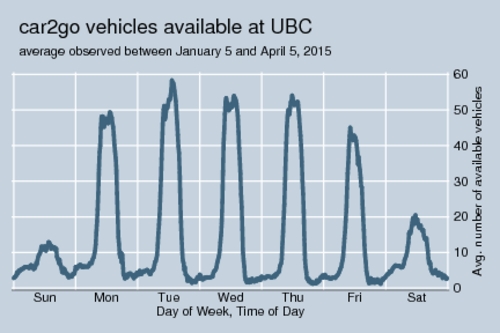 click on image for high-resolution PDF version.
The next chart provides a closer look at the intra-day pattern for Monday through Friday only. Vehicles start arriving between 8 and 10 in the morning, and the departures occur more gradually between about 2pm and 6pm. There is a dearth of vehicles beetween 5pm and 11pm. After about 11pm, a few vehicles return to UBC, likely people who live in one of the campus neighbourhoods or in one of the student residences.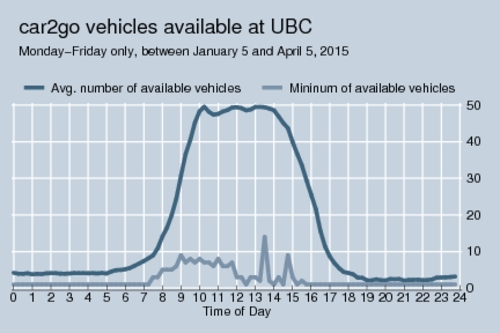 click on image for high-resolution PDF version.
The average availability of vehicles masks the risk that there are "black-out" periods with no available vehicles. Car2go members looking for vehicles may find themselves without available vehicles at certain periods. The chart above also shows the observed minimum number of vehicles during any given time. It is possible to find no vehicles at all during the late afternoon and evening. On the other hand, when I need a vehicle during the day to make a quick trip off campus, say for a presentation at a workshop downtown, I will not have to walk far to find a car2go. Also, availability across campus may vary as the campus includes both institutional areas and residential areas.
Usage patterns of car2go may reveal many interesting things about commuting and transportation in Vancouver. Competition among different car-sharing operations is another interesting question, as are the relationships with parking and public transportation. These are all topics thjat I will look into more for future research.
Daimler of Germany, the company which produces smart cars and owns car2go through a subsidiary, has acknowledged that their car sharing is profitable in those cities where the program was launched in 2009: Hamburg (Germany), Vienna (Austria), and Vancouver. The company says that it takes 3-4 years for a new city to become profitable for car2go. In Canada, car2go currently operates also in Toronto, Montreal, and Calgary.
The future of car-sharing looks very promising. Recently, car2go introduced inter-urban mobility by connecting the cities Köln and Düsseldorf in Germany. Car-sharing thus starts to compete also with the domain of conventional car rentals, which primarily provide daily rentals of vehicles that need to return to the original rental location for drop-off.
Car2go is likely to face more competition in the future—not just from BCAA's evo in Vancouver. BMW, Daimler's fierce German competitor, has launched its own service DriveNow in cooperation with the German car-rental company Sixt. DriveNow has already arrived in San Francisco and is planning to launch in Seattle during 2015.
Car sharing comes in different flavours. The free-floating model pioneered by car2go competes with the return-to-origin model of ZipCar or Vancouver's car-sharing cooperative Modo. Traditional car rental companies are increasingly seeing the benefit of the new business model. Avis Budget Group acquired ZipCar in 2013 for $500 million. And for car makers such as BMW and Daimler, utilizing their own vehicles promises to generate visibility and demand for their brand names.
Cities are also getting in on the game. Getting privately-owned vehicles displaced by car-sharing services offers the prospect of less congestion, fewer emissions, and revenue from licensing fees. However, there is also the risk that increased car-sharing encourages people to drive more instead of using public transit. Quantifying these substitution effects will be another interesting research question.

© 2023 Prof. Werner Antweiler, University of British Columbia.