Prof. Werner Antweiler, Ph.D.
Werner's Blog — Opinion, Analysis, Commentary
Electricity generation country profiles
The transition from fossil fuels to renewable energy is making progress in many countries, slower in some and faster in others. Using new data from the International Energy Agency (to which UBC subscribes through the OECD library), I have put together graphs that document the transition over the last decade.
Let's start with Canada, which has an abundance of clean hydroelectricity. Among the large industrialized countries, Canada is a leader when it comes to renewable energy. Wind and solar energy are making small progress, but this is perhaps not surprising given the dominance of hydro. Canada continues to have a small share of coal-fired power plants, and while this share is shrinking, it needs to go to zero in the next years in order for Canada to meet its Paris Agreement goals.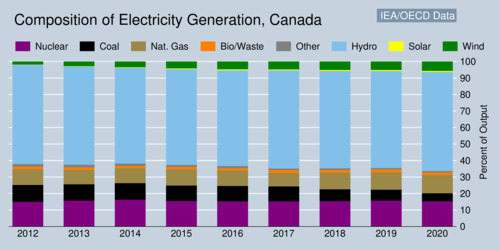 click on image for high-resolution PDF version
The picture in the United States remains heavily dominated by coal, although the share is clearly shrinking in the last few years. Cheap natural gas has made coal less economical than in the past. This substitution is good for the environment because natural gas emits fewer pollutants than coal. Yet, the transition to renewable energy sources in the United States proceeds at a slow pace. Wind and solar are expanding, but there is no clear trajectory visible yet towards a more rapid transformation. It will be interesting to see if the Biden administration's plans to spend more on infrastructure will accelerate the process. Because the US electricity grid remains heavily dependent on coal especially in the Eastern Interconnection, the case for adopting electric vehicles is rather stronger on the West coast than the East coast. Incentive schemes should reflect this reality.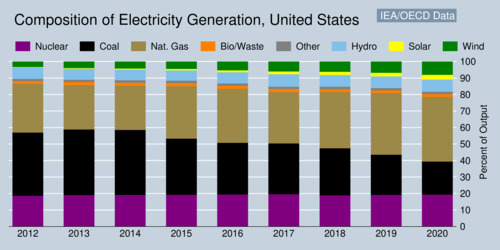 click on image for high-resolution PDF version
Germany's "Energiewende" (Energy Turnaround) is showing strong signs of progress in recent years, as renewable sources including biofuels and waste fuels have reached nearly half of electricity generation. At last, the share of coal is starting to shrink, in part replaced by more natural gas. Yet the increased dependence on natural gas has also revealed Germany's lack of import diversification, as the political controversies about the Nordstream 2 pipeline reveals. As natural gas prices have been spiking this fall, strategic weaknesses in the energy transformation have been exposed. Germany's next government, still waiting formation following coalition talks, will have to decide which energy future it wants to purse. The current crisis is teaching valuable lessons. More on this in a forthcoming blog.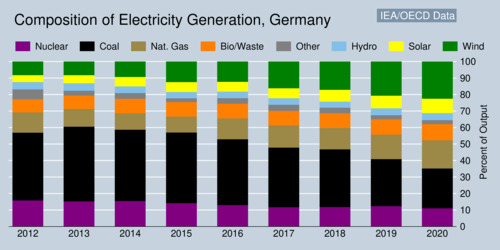 click on image for high-resolution PDF version
France's electricity generation is heavily dependent on its fleet of nuclear reactors. It is one of the few countries that has embraced nuclear technology wholeheartedly, and has so far managed it very well. Unlike Germany, France plans no exit from nuclear electricity. Growth in capacity comes mostly from wind and solar energy, along with more natural gas. Coal plants are increasingly phased out.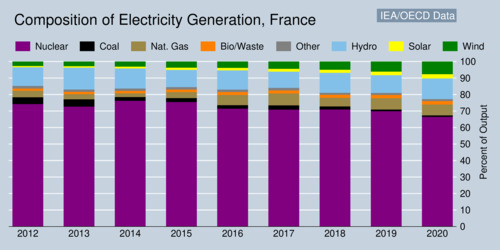 click on image for high-resolution PDF version
Great Britain's electricity grid has undergone one of the most significant transformations in recent years, even more so than Germany. Coal has been phased out aggressively and replaced by a mixture of natural gas, wind, and bio fuels and waste fuels. With significant plans to expand offshore wind installations, the share of wind energy will continue to grow.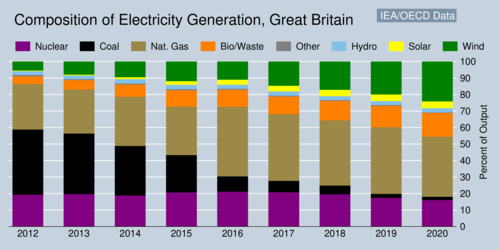 click on image for high-resolution PDF version
One country that will find itself in a rather difficult position to wean itself off fossil fuels is Poland. In 2012 it was still almost exclusively dependent on coal, and by 2020 coal still accounts for two-thirds of electricity production. The environmental consequences are apparent. The share of natural gas is expanding only slowly, in part due to political concerns. Poland's strained relationship with its Eastern neighbour, Russia, makes Poland look towards imported natural gas from Norway as well as imported LNG from around the world. I had written about it in my 2020 blog Poland's dual energy transition.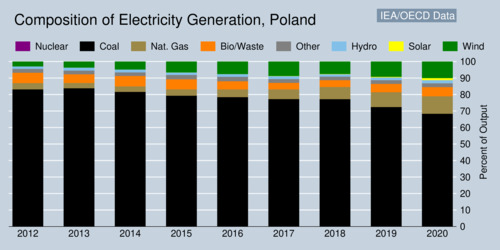 click on image for high-resolution PDF version
A very different picture is apparent in Denmark, which benefits from having built wind farms onshore and offshore along its long coast line. In 202, most electricity in Denmark's is from wind, and nearly 90% is from renewable sources including biofuels and waste fuels. Denmark has been able to wean itself off fossil fuels almost entirely, and through the connections of its electricity grid with Sweden and Germany is able to buffer most of the volatility from its strong wind dependent.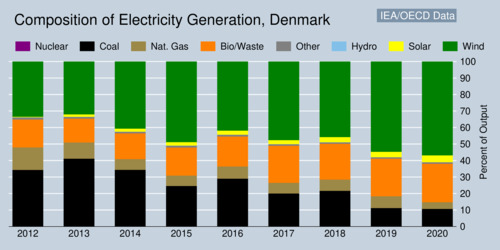 click on image for high-resolution PDF version
Japan experienced the Fukushima Daiichi nuclear disaster in 2011, which forced the country to shut off its entire fleet of nuclear reactors. The diagram shows the post-Fukushima era of Japan's electricity grid. Some nuclear power plants were restarted since the disaster, but nuclear power continues to play a minor role in electricity generation. The huge gap that opened up has been filled with fossil fuels: coal and natural gas. As Japan has no significant natural gas resources of its own, it relies heavily on LNG imports. Japan's LNG import price has thus become the leading benchmark price for LNG. Japan is also making progress expanding solar energy, but its heavy reliance on fossil fuels weighs heavily on the country's carbon footprint.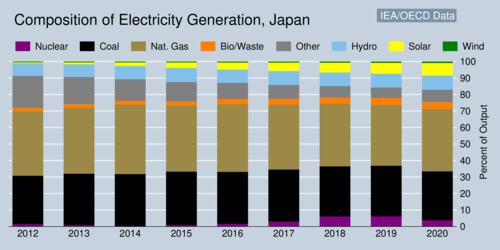 click on image for high-resolution PDF version
The profile that is missing is China. The IEA data made available through the OECD unfortunately only covers OECD countries. China, despite being world leader in deploying renewable energy, remains overwhelmingly dependent on coal along with all the adverse consequences on climate change and local pollution. Among the big economies in the world, China's energy transformation plays an outsized role with respect to limiting climate change.
Tweet

© 2023 Prof. Werner Antweiler, University of British Columbia.