Prof. Werner Antweiler, Ph.D.
Werner's Blog — Opinion, Analysis, Commentary
Does LNG still have a future in BC?
B.C.'s Green Party has threatened to topple the NDP government if they bring LNG to BC. The Green Party is worried that any major LNG project in BC would prevent the province from reaching its climate change goals. Premier John Horgan, during a trade mission to Asia also met with representatives from LNG proponents. As the diagram below shows, LNG prices are still depressed and there is little sign of any reversal in the near future. Simply put, LNG from BC is too expensive at this point. This is the main reason why no major LNG project has gone forward yet with a final investment decision.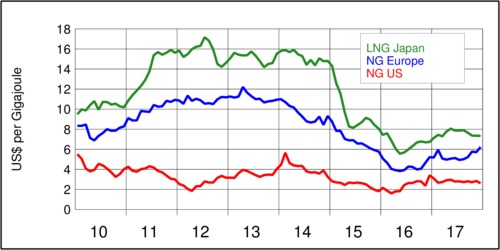 click on image for high-resolution PDF version
There is a glut in LNG supply due to the arrival of new production facilities in the market place—especially in Australia, which is on course to take over Qatar as the largest LNG producer. Australia currently has seven LNG plants (North West Shelf, Darwin, Pluto, Curtis, Gladstone, Australia Pacific, and Gorgon), and three more are nearing completion (Prelude, Wheatstone, Ichthys).
Demand for LNG is continuing to grow especially in the Asia-Pacific region, but capacity has been increasing faster. As a result, capacity utilization is low at the moment.
Japan remains the largest importer of LNG because of the continuing shutdown of their 48 nuclear reactors; only 2 have clearance to restart soon. However, if Japan starts up a significant share of its nuclear fleet again, then we expect demand for LNG to drop for some time before increasing demand from China, South Korea, and other countries in the region will compensate.
Companies that were looking to build LNG plants in British Columbia are in a "hold" pattern. It would take a prolonged and persistent increase in LNG prices to make LNG in BC profitable. This delay isn't necessarily unwelcome. Certainly, Northern BC will miss out on economic development opportunities for the time being. In the long term, the demand for natural gas will continue to grow. The natural gas is still in the ground and will remain a viable economic asset for generations. The world isn't going to exit natural gas any time soon. While renewable energy expands, we need peaker-plant backup from natural gas plants for quite some time. Eventually we hope we can move to grid-scale electricity storage, but at this time that remains an expensive alternative. The phase-out of coal-fired power plants also means that we will need natural gas plants as a reliable and flexible alternative. Eventually, the proposition of LNG in BC is viable, but not quite yet.
The remaining pesky problem is, of course, figuring out how to reduce the carbon dioxide footprint of LNG. Australia has seen an increase in CO2 emissions, a direct result of the expansion of LNG. If BC wants to meet its climate action goals, LNG using direct drive technology is not feasible. To make LNG an environmentally sound proposition, two things are required. First, LNG needs to replace coal use abroad, which is much more carbon-dioxide intensive than burning natural gas. Second, we also need to deploy electric drive technology for the liquefaction process, where additional electricity comes from clean sources (hydro, wind, geothermal). BC hasn't fully come to terms with this environmental conundrum. Naturally, clean LNG is more costly than conventional LNG (as deployed in Australia), and requiring clean LNG technology will likely postpone development of LNG even further until prices rise sufficiently.
The hard question to answer is about the environmental equation for using LNG. If we care about global CO2 emissions rather than local CO2 emissions, displacing thermal coal is a priority. However, whether natural gas from BC leads to this displacement is hotly debated. It all depends on what is being displaced, and where. If LNG actually displaces renewable energy, LNG would lead to a net increase in carbon dioxide. A recent study by Kasume et al. (see below), researchers at Johns Hopkins University, found small net CO2 reductions. Eyes are also on China and the country's efforts to displace coal with natural gas and alternative energy sources. But mind the repercussions. If Chinese coal is not used in China but exported elsewhere, the climate change problem is simply migrating elsewhere. Chinese companies are reported to be on course to build 140 coal plants in other countries. A recent article in Foreign Affairs (see below) paints a rather nuanced picture about China's coal problem.
July 2018 Update: There are signs of life in Shell's Canada LNG project, and it may in fact be nearing a final investment decision in the fall of 2018. While LNG prices remain low at this point, there are expectations that by the time the project is completed in the early 2020s, LNG markets will have grown sufficiently out of the current glut for prices to make LNG from BC profitable. As I had discussed in my LNG: technology choices and emissions blog from November 2014, the LNG Canada project will use a hybrid technology that aims to have a lower carbon footprint than other proposed projects. LNG Canada targets 0.15 tonnes of CO2 per tonne of LNG. That is ambitious even when considering their partial reliance on grid power. However, most of the emissions that BC needs to worry about are upstream, as the total intensity including upstream and transmission is in the 0.8 range. The fully built-out plant at 26 MTPY would contribute at least 3.9 Megatons (MT) of CO2 at the facility level, and possibly up to 5 MT if their efficiency is not as good as targeted. Upstream emissions will add another 15-16 MT of CO2. It is the latter that BC needs to worry about most.
Posted on Wednesday, January 31, 2018 at 18:30 —
#BC
|
#Energy
|
#LNG
Updated on Wednesday, July 11, 2018
Tweet

© 2023 Prof. Werner Antweiler, University of British Columbia.